As interest rates have crept up, they've begun to highlight which businesses can be sustained for the long run and which ones are built on cheap money. That separation will become even starker in 2023, contends an article in Bloomberg.
---
---
Most companies have yet to face the consequences of high rates, since near-term borrowing needs were met when rates were historically low in the first couple of years of the pandemic. While a few high-profile collapses have occurred, such as Revlon, which filed for bankruptcy in June, and pharmaceutical company Endo International Plc, which initiated Chapter 11 proceedings in August—not to mention FTX's implosion—a full reckoning of the impact of cheap debt is coming, the article portends. There is a high level of debt that is set to expire in 2024, and when companies attempt to refinance before those expirations, they're going to find much higher interest rates than when they borrowed the money in the first place, with high-yield debt currently around 8.67%.
Of course, that reckoning is reliant on what happens with the economy in 2023. While a recent Bloomberg survey of economists predicts a 70% chance of a recession, there's much disagreement about when it will occur. Bloomberg Economists predict the recession will happen in September. But UBS AG strategists believe the last Fed rate hike will come in the first quarter and be quickly followed by a recession in April. As the downturn arises, "risk-free rates and credit spreads will pass like ships in the night," the article maintains, making it extremely tricky for companies to get the timing just right on refinancing. Credit spreads for junk bonds are currently at 452 basis points over Treasury bonds, far off the 800 mark that is typical during a recession. Even if those yields decline as inflation starts to ease, junk-rated companies will have a hard time finding an opening to refinance at attractive rates. That's going to force them to refinance at a much uglier rate, and will likely result in many of them going under.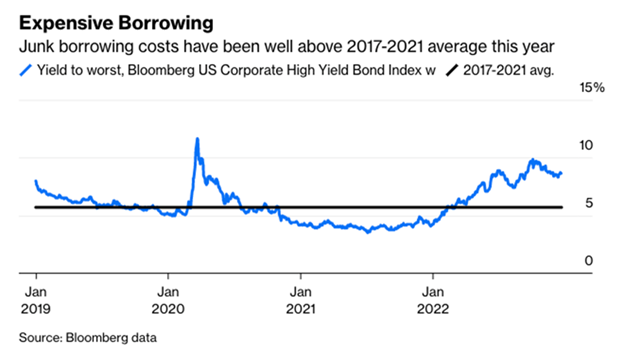 ———————————————
Validea runs stock and ETF models based on investment strategies with proven long-term track records. If you're new to Validea, consider taking a look at our product overview or introductory videos.
---