In 2007, Protégé Partners executive Ted Seides wagered a bet that hedge funds (heavily criticized by Buffett) would outperform index funds in the following decade, according to an article in last month'sWall Street Journal.—and it looks like the Oracle of Omaha is going to win.
The index fund chosen by Buffett (Vanguard 500 Index Fund Admiral Shares) has climbed 66% through the end of 2015, while the basket of funds selected by has gained 22%.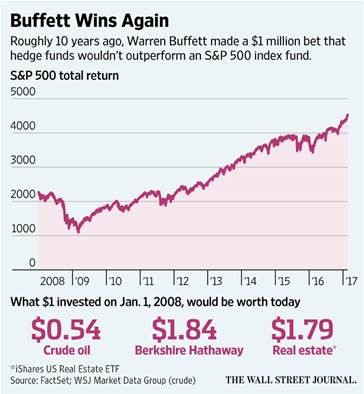 The article explains Buffett's criticism of the typical arrangement whereby hedge funds take a cut of investment gains in addition to charging management fees—all of which, in his opinion, eat away at investor returns.
In February of 2015, Seides blamed the hedge fund's underperformance as the result of "a number of cyclical headwinds," according to the article, including low interest rates. According to researcher HFR Inc.,WSJ reports, the S&P 500 rose 12% last year (including dividends) while "all hedge funds as a group rose 5.5%."
At Berkshire Hathaway's 2015 annual meeting, the article says, Buffett commented, "There's been far, far more money made by people in Wall Street through salesmanship abilities than through investment abilities."