A recent Bloomberg article offers an overview of the performance of Harvard University's endowment fund, highlighting the failed efforts by the school's highly paid money managers to "manage risks other schools avoided."
The article reports that Jane Mendillo, who headed the endowment six years ago, led Harvard at that time into one of its "most daring foreign adventures" by investing at least $150 million in agricultural development in the impoverished northeastern region of Brazil—specifically, in the production of tomato paste, sugar and ethanol. "Harvard bet the farm in Brazil and lost," the article says, which led to last year's decision by current endowment chief, N.P. "Narv" Narvekar to write down the value of its global natural resources portfolio by $1.1 billion to $2.9 billion (the school manages a total of $37.1 billion).
According to the article, Harvard's endowment fund has faced challenges over the past decade, posting an average return of 4.4 percent and lagging many of its peers: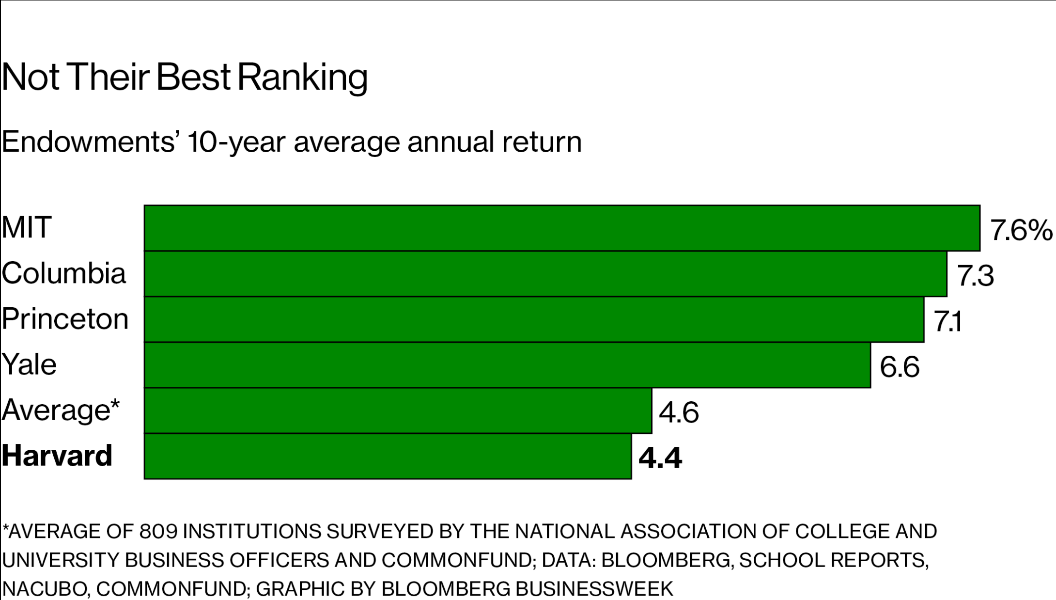 University of Washington finance professor Thomas Gilbert believes that Harvard's missteps over the past decade are primarily due to "the belief that its top money managers—who were paid $242 million from 2010 through 2014—were smarter than everyone else and could handle the risks almost all other endowments avoided." Although some of the school's natural resource investments were profitable, the article argues, the school's foray into Brazil became a losing proposition as corruption in the country's government deepened and its economy slowed.
"The strategy paid off for one constituency," the article concludes, "Harvard's money managers." Mendillo, it reports, earned as much as $13.8 million in a single year.
Narvekar, it says, has decided to move most of the university's investments to outside managers. While considering further write-downs of natural resource investments, the article reports that he "may continue to hold some if they're a good value now."