Emerging markets—long considered turbulent–are seeing the lowest volatility they have in three years, which is attracting funds and bolstering returns. This according to a recent article in The Wall Street Journal.
The MSCI Emerging Markets Index is up 25% over the past 12 months, the article reports, compared with a 15% return for the S&P 500. It attributes the flow in part to the fact that valuations haven't risen as much as they have in the U.S. equity market.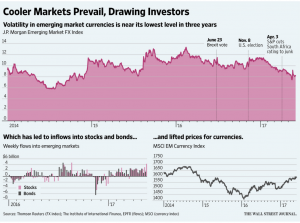 According to Credit Suisse Group strategist Alvise Marino, "When investors believe the market is unlikely to be hit by negative surprises, they tend to pile into assets that have the highest risk-reward." The article says this occurs even when there are signs of trouble in developing countries, such as political unrest or economic uncertainty. It cites carry trade—the practice of borrowing money from a nation with low bond yields to purchase currency of another country showing higher bond yields—as one factor that has led to increased interest in emerging markets.
Other investors, however, are turning to developing countries because of "improving economic fundamentals, rather than short term trades," according to WSJ.