In an excerpt from Canaccord Genuity's December Strategy Picture Book in Proactive Advisor Magazine, U.S. portfolio strategist Tony Dwyer writes that they expect 2022 to be a "volatile trading range environment," despite an overall positive core outlook.
The situation is similar to 2005 and 2011, when there was excessive liquidity as the economy emerged from a recession, and a more strategic investment plan is required, the report contends. Here are the key points made in the excerpted report:
There will be a better inflation trend next year. High inventories, less stimulus, and lessening supply-chain bottlenecks should help keep inflation closer to the Fed's 2022 goal.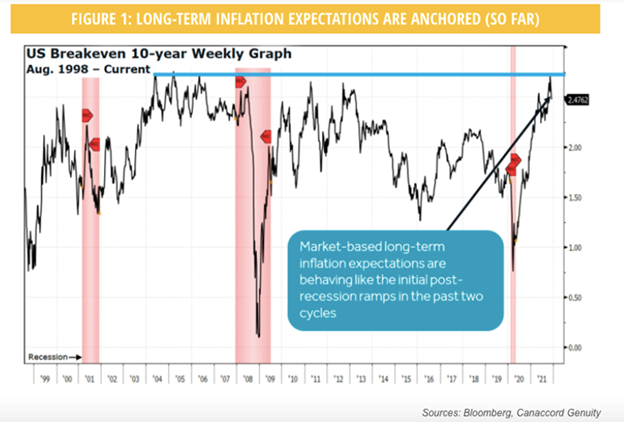 While the Fed may taper quicker, expect rates to raise slower. With the Fed's hawkish view on inflation, there is greater pressure on interest rates and long-term inflation breakevens, and the expectation that there will be liftoff from the zero interest rate policy by spring or summer is probably too soon.
As the economy rights itself, slower growth that favors services is expected. 2022 will bring a transition from goods to services. While negative impacts will continue from Covid variants, remaining supply-chain issues, and reduced monetary support, those issues will be offset by looser financial conditions, income growth and growth in the construction industry, greater optimism in manufacturing, and global expansion.
EPS estimates look positive through 2023. EPS looks to remain positive over the next several quarters, and the market corresponds its direction. Assuming no major shifts in margins or taxes, the report raised their Operating EPS estimate to the range of $220-$225, reflecting a much more normal growth rate.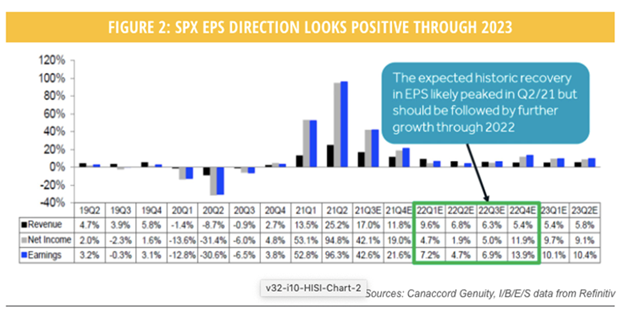 If the report's view of inflation is correct, valuations are fair. As record growth in EPS outpaces solid gains in the primary indexes, market valuation has decreased. If credit markets suggest that core inflation will shift back toward the Fed's target range, the average multiple should hold as 2022 progresses.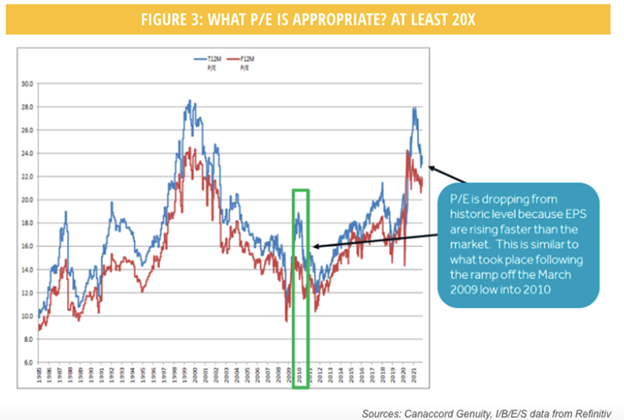 The excerpt concludes with the view that recent market volatility provides an opportunity for a "tactical push higher for risk assets and cyclical sectors" and that in 2022 the market will move back to a more "normal" environment.