Active equity funds in 401(k)s, top-heavy with tech stocks, plummeted last year thanks to the tech rout but are now seeing a welcome boost, reports an article in Bloomberg. Several funds, including Fidelity's Contrafund and Growth Company, T. Rowe Price Blue Chip Growth, and the Growth Fund of America, are all up between 5.4% and 8.8%, while the S&P 500 is up 4.6% this year. While that doesn't make up for last year's losses—those funds dropped at least 33% in 2022—it's an encouraging start to the year.
---
---
The gains are likely driven by the rise in some of the funds' biggest holdings, such as Meta, Amazon, and Alphabet, which are up 19%, 15%, and 11%, respectively. Fidelity Contrafund holds 5.5% in Meta, 5% in Amazon, and 4.2% in Alphabet, while at T. Rowe Price Blue Chip Growth Fund, holdings include 6.8% of Amazon and Alphabet, 2.8% of Nvidia, with the remaining top 10% stake in software company ServiceNow Inc, which has gained 14% this year, the article details. Investors are also optimistic about cooling inflation and its impact on the Fed's actions; as inflation eases, the Fed may slow down their aggressive rate hikes and perhaps start to reverse them. Even a recent blip in this month's rally, brought about by Microsoft's warning of slowing sales, was nearly erased in the Nasdaq by the end of the day.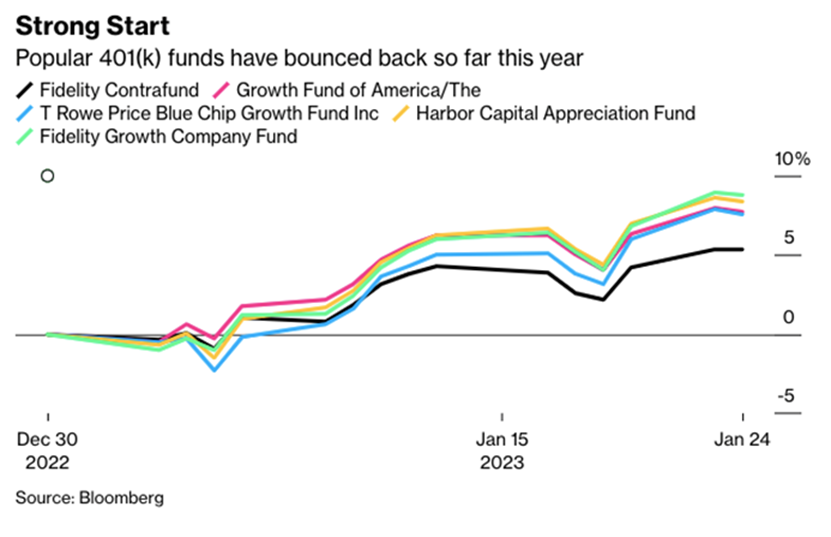 ———————————————
Validea runs stock and ETF models based on investment strategies with proven long-term track records. If you're new to Validea, consider taking a look at our product overview or introductory videos.
---